FlexBind® hinged sheets create beautiful lay-flat books! Just print (Digital laser), trim and bind!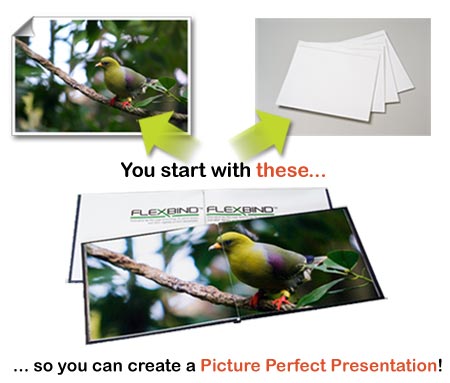 FAQs
What is FlexBind®?
FlexBind® is a digital photo sheet or "page" product. It is not a binding system or print process. Available in different base stocks and sizes the sheets have an integrated, flexible hinge that allows even the heaviest weight sheets to lay completely flat when properly bound. The advantages include the ability to digitally image directly on the page and immediately bind the volume producing a very high quality "coffee-table" book.

 What are the advantages of using FlexBind®Â pages?
FlexBind® digital pages transform printed material into incredibly high quality, professional bound volumes for wedding, sports, travel albums and other digital scrap-booking uses.
Printers and labs can easily enter new, expanding digital book and color markets.
Produce beautiful, value-added bound volumes with high quality, heavyweight archival pages that will become treasured keepsakes.
I have seen some other papers that claim to lay flat/panoramic, so what is the difference with FlexBind® pages?
FlexBind® digital pages do no require any additional process to finish the book: Simply print, trim to bleed and bind. Just like any other paper you print in your digital press, but with the built in hinge, the paper lays completely flat! With no additional work, you can make you photo books fast & easy, but deliver an exceptional high end product!
No machines to buy, no extra time to make, and you can offer all popular sizes up to 12 x 12, including the most popular sizes like 11 x 8.5 landscape.
PAPER
What paper, weights and sizes are available?
Medium (6 pt.) to heavyweight (14 pt), matte coated, high quality digital papers.
FlexBind® sheets are available in various sizes to produce common book sizes.
The grain direction is parallel to the hinge and binding direction
PRINTING
What types of digital presses are compatible with FlexBind®photo sheets?
FlexBind® sheets have been tested on the major digital production presses. Contact Us to receive more information.
Can I print on both sides of the sheet?
Yes, sheets can be imaged on both sides and on top of the FlexBind® hinge to produce a full spread with minimal image loss in the gutter.
Can FlexBind® sheets be laminated, UV coated or glossed?
Yes, laminate, UV coat or gloss as you would plain paper.
BINDING
What types of binding can I use?
Most traditional binding methods can be used including perfect binding (hot melt), Stitching and Linear Stitching/Side Stapling. You can see examples of these binding machines in the following pages:
Fastbind BooXter Duo Photo Book Binder
Fastbind BooXter Zero Photo Book Binder
Fastbind Perfect Binder Secura, Elite Elite XT or PUREVA XT!
OTHER QUESTIONS
How should it be stored and handled?
See the FlexBind® Storage and Handling (PDF)